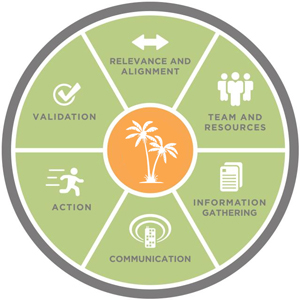 Palm Interactive has years of experience in understanding usability, visibility and the challenging balance between design and function that is required to draw visitors into a web portal, and to encourage their participation and relationship development.
Palm Interactive is made up of a handful of experts based in the Midwest and Florida that collaboratively work on various projects both personal and for clients.

Steve Palmer – Team Leader
Steve has been involved in web development and internet marketing since 1997. Diehard entrepreneur, Domain'r, Graphic designer and marketing specialist, Steve is an innovator in the field of SEO and link building. In,  2001,  he founded Recycled Traffic Inc, which was one of the first websites in the world to track and compile domain name data in the SEO concepts of Site Rank, Age of Domain (AOD), and backlink count still used by the current Google Algorithm.

Matt Scrivo – Project manager/developer
As a project manager Matt Scrivo is in charge of  architecture and development process of web sites.  This may include integrations, migrations, compliance and compatibility issues.  Matt is a Fighting Irish alum and has completed Masters level courses in Web Design, Programming and Online Marketing at local universities. Matt has been designing interactive websites for over 10 years and has worked with the Joomla Content Management System since its inception in 2006.

Jose Mojica – Lead Programmer/Developer, Videographer, Author
Jose is an elite level programmer and product of  University of  Michigan. He teaches various courses that focus on enterprise development in COM+, IIS, .NET, and Visual Basic. Before joining the Palm Interactive team, Jose was a consultant at IBM, writing DCOM servers that performed speech recognition and creating ActiveX controls in ATL for the ViaVoice SDK. He has worked with Visual Basic since Version 1.0. Jose is the author of Building ActiveX Controls with Visual Basic 5.0

Jeffrey Adik – Lead Business Consultant, Systems & Design Engineer, Animator
Jeffrey brings vast knowledge & experience in business, operations & strategy. He has lead solution delivery across a spectrum of firms, from IT start-ups to Fortune 20 companies, & has degrees from U. Michigan Engineering and the Kellogg School of Management. Mr. Adik has been featured as a guest technology writer for the Detroit Regional Chamber's magazine, "Detroiter". He's a Board of Trustees member of CreateDetroit, a founding board member of Detroit Passport to the Arts, & founder of Intraduce, a strategy firm focused on autonomous transit.

Brian Brinkworth – Systems architect/ SEO specialist
Brian has been involved in web development since the early 90′s. He has worked for many fortune 500 companies as well as founded several dot coms. One of Brian's last projects brought Vietnamese live television to the USA via web interface. The site grew rapidly to over 1,000,000 page views per day! Brian is instrumental in marketing strategy, Search engine optimization, systems architecture and Design. There's not one aspect of web dev does not have high profile working experience with.

Mark Scrivo – Networking/Hardware/ Programming
Mark Scrivo handles custom programming, POS systems, server setups, PCI compliance and networking. Mark has studied programming and network engineering at many local Colleges and Universities, including Western Michigan University and Macomb Community College. Besides working with Palm Interactive, Mark leads a networking team with T-Systems in Auburn Hills,Michigan.