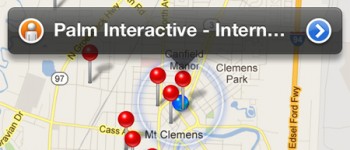 **Update 6/12/2012 5:35 est**
How to submit your business listing to Apple Maps for iOS 6
Apple will be aggregating its business listing data through Axciom, infoUSA, Localeze and Yelp.
So, make sure your Yelp profile is up to date and "claimed". This seems to be the easiest way for inclusion. But, if you're a new business you're going to want to make sure you're in all the primary data sources anyway. In some cases you'll have to pay, such as, having no "landline" that can be verified.
I'm betting that Apple will set up some type of a "Business Resource Portal" eventually. It only makes sense that they will want to control that aspect of the iOS, since there's billions of dollars to be made in a vertical they are completely new to.
But, for now, you can follow these links and claim your profiles which will ensure your inclusion to iOS 6 Maps when its released this fall:
https://www.expressupdateusa.com/Get-started-997A7-41404J.html
http://mybusinesslistingmanager.com/SubPages/Submission.aspx
http://www.localeze.com/how-localeze-works/businesses/
**UPDATE 6/11/2012 3:30pm est**
Apple Maps for  iOS 6 announced officially at WWDC.
So, the new Apple Maps was announced as expected. During the Keynote Tim Stevens said: "Beautiful, beautiful maps. Now, part of Maps is local search… we have already ingested more than 100 million business listings".
This is a game changer.  Data has been collected through anonymous sources, and it looks as if this new opportunity can be utilized to its fullest through your own dedicated app that will be integrated and promoted inside the Apple map application!
What does this all mean? Well, there's 365 million iOS 6 enabled devices, that will now use a business listing data source other than Google to populate its Maps.
We'll update again here, as soon as we get to play with the iOS 6 beta that's being made available TODAY! Hopefully we'll have a better understanding of how exactly business will be able to edit and modify their "Apple Map business info card", whether by dedicated app or through your itunes account perhaps.
This is HUGE NEWS for the future of internet marketing.  iOS6 will also have a dedicated app notification banner to notify all mobile users that you have an app for download, with redirect to the app store.