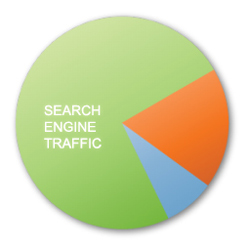 Search Engine Optimization (SEO) and Search Engine Marketing (SEM) are imperative to a successful web-presence. In order to achieve this, proper site frameworks and infrastructure need to be implemented from the start of development. This is how we separate ourselves in the web-development industry.
We think about search engines and how we will gain traffic by optimizing the code, pages, content, copy, titles, tags, and URL's all the while creating a perfect USER EXPERIENCE as well.  While the principles of SEO are not rocket science, many companies seem to ignore it or leave it as an afterthought.
After the recent "panda" update to Google's algorithm, it is even more important to adhere to the "white hat" methodologies of SEO. The most valuable internet traffic available is found through organic searches. It is also the most cost-effective, especially within the finance, legal, and medical niches, where Pay-Per-Click (PPC) campaigns can cost up to $5-$10 dollars PER CLICK!
Reach Out to Web Searchers
When you need information, do you go right to your computer or Smartphone and pull up a search engine site like Google or Bing? You are like millions of consumers using the Internet to find information around the globe. If you are looking for search engine experts, then you have found a digital marketing agency that has SEM experts on staff!
Build More Inbound Traffic
Web consumers will not find your business if your site is not designed with the latest principles of search engine marketing. When people type in a search query into their favorite search engine, they are looking for information that will minimize the amount of time spent searching before choosing a product. If your website content is optimized for search engines by our web marketing team, your company will come up higher on the search engine results page. Your business can passively get customers who are searching the Web, and we have the experience to guarantee your page ranking.
Increase Conversions Through a Seamless Design
With SEM, you won't have to rely only on traditional sources of marketing, such as broadcast and print media, to connect with your audience. The website we design for you will increase the visibility of your company. When web searchers arrive at the website, the way your website combines text, visual elements, and user apps will convert more visitors to buyers.
Avoid Confusing the Audience with Mixed Messages
Even though every page of content on your website should be optimized for search engines like Google and Bing, you don't want to add content that confuses customers. Every piece of content must add to your corporate brand and position your company to dominate the online market!